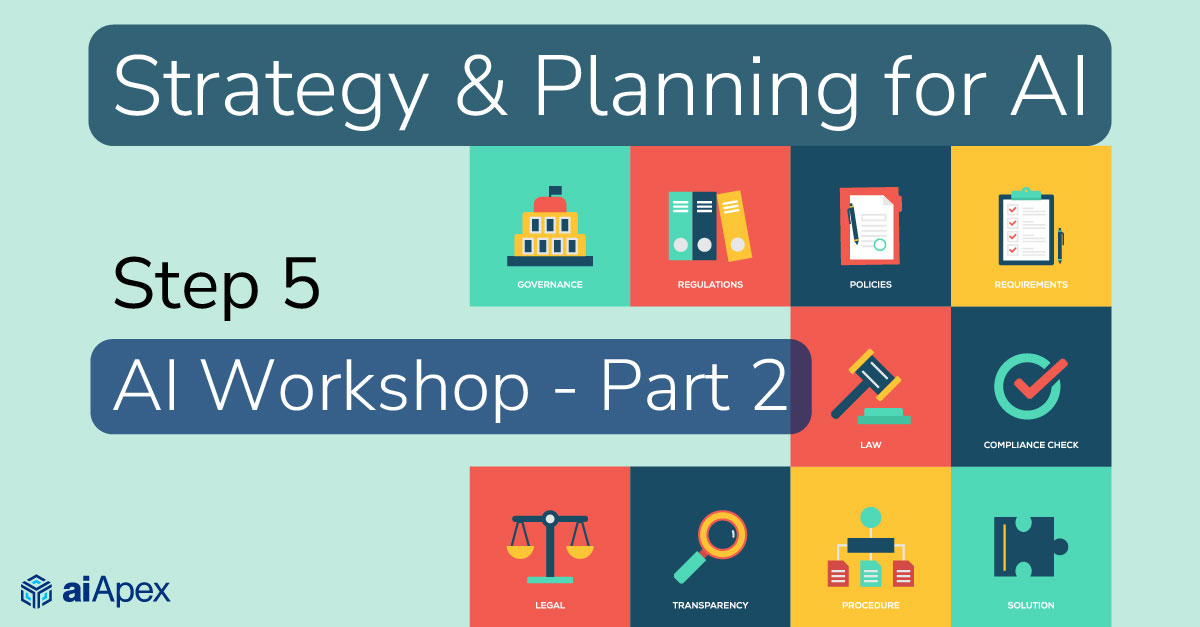 June 28, 2023
So, what is discussed in an Executive AI Workshop? You have your Executive AI Workshop planned and scheduled. Materials are prepared and have been reviewed for accuracy and relevance. Any advance reading for the participants has been sent to them at least 1 week in advance of the 2-day Workshop. Individual team members, other internal experts or external consultants are assigned to lead the major topic discussions. The discussion below follows the Workshop outline we presented in Post 3 of this LinkedIn series:

Please note: Due to length, Workshop Topics 1, 2 and 3 are in Post #4, and Workshop Topics 4, 5, 6 and 7 are in this Post #5.

4. Assessment of AI Utilization. This would be an evaluation of a defined set of criteria your team has developed but applied by the AI Workshop participants. The criteria need both a business and IT focus. While you are not necessarily making a judgment about an AI initiative's results to date, you decide it is prudent to apply consistent measures across them. This effort helps participants utilize a structured set of criteria to determine the status of current AI projects, their costs to date, and ROI.

5. Planned Growth in AI Utilization. This discussion would be focused on material presented from data gathered internally. Participants review and discuss the documented AI investment that the health plan is already planning to make. While the objective here is not to change approved business and IT capital expenditures for AI, but to increase awareness of them, and perhaps review if these planned or in progress AI projects should be analyzed and compared with the criteria utilized in the prior discussion for assessing current utilization of AI.

6. AI Management & Governance. This is a vital component of the Executive AI Workshop discussion. Since AI is a relatively new technology, many of the controls to operate and maintain an AI-driven application are from the perspective of a data scientist or an AI IT professional (sometimes a consultant or 3rd party software provider). Going forward, as AI becomes more integrated into daily operations, and a more critical component of systems replacements and upgrades, the requirements to effectively manage and govern the use and access to the AI must become a part of the organization that will ultimately own these responsibilities.

7. Findings & Conclusions. As these workshops are often completed in a few business days, all the discussion details may not be fully analyzed. In addition, some discussion items may have ended up on a list for follow-up. While preliminary findings and conclusions can be completed during the Executive AI Workshop, final findings and conclusions may need to be distributed once your team has completed any follow-up. The final draft of Findings & Conclusions should be distributed for validation with participant sign-off before being shared with executive sponsors or distributed to other teams.

If you'd like to discuss our perspectives, our responses to the above questions for your organization, and our approach to strategic Enterprise AI, please contact us using the form below or at [email protected].
---